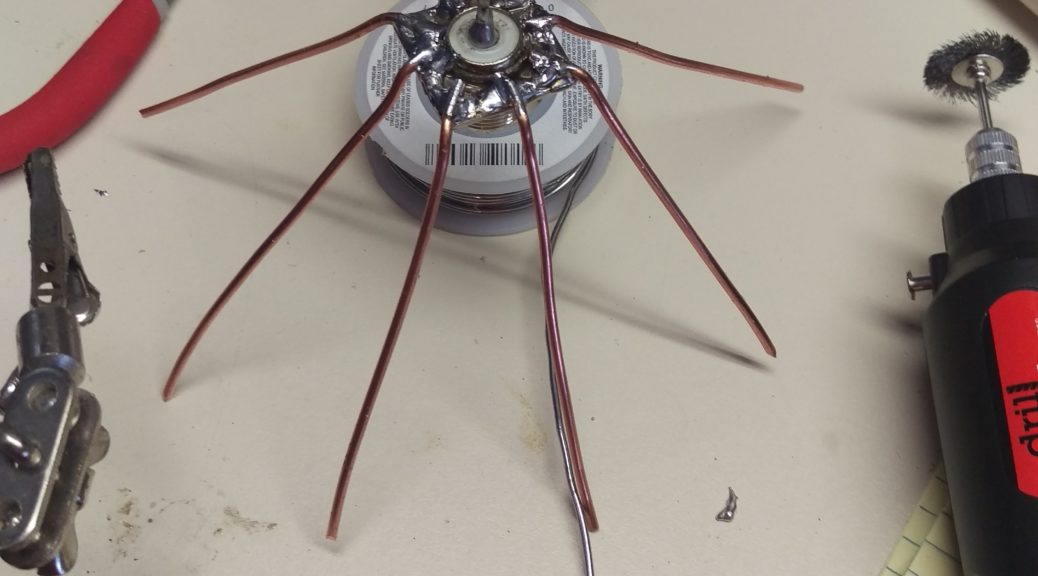 ADS-B: Build a simple ground plane Antenna
ADS-B: Build a simple ground plane Antenna
Materials:
 solid copper wire (12, 14, 18 – whatever you have available!)
SO-239 LINK
Soldering Iron and solder
Tape, Ruler, calipers or anything to measure a wire to a lenght of 75mm then finally the "snip length" of approximate resonance 67mm (technically the resonance is at 65.5mm… but from my experiments, 67mm does the trick!)
Let's get started:
Steps:
Cut and strip 9 pieces of wire to about 75mm each

Take 8 of them and give them a "L" hook as seen in photo, the hook need not be more than a few mm (spider legs)

Take the remaining stripped copper wire and solider it to the SO-239 center, tin it first with a bit of solder!

Tin the "L" hook spider legs also, make sure the iron is hot

Attach the 4 legs to the holes in the SO-239 – then do the same for the remaining 4 legs. you will have to solder these flat to the SO-239

Take a ruler or caliper and mark each element to a length of about 67mm – and TRIM them all to the same length (about 67mm is good enough)
take the 8 "spider legs" and tilt them about 45 degrees or so – dose not have to be exactly 45 deg. – and you can fiddle with the angle for performance tweaks!
Just like that you have an antenna that works well with a piaware SDR dongle for ADS-B reception.