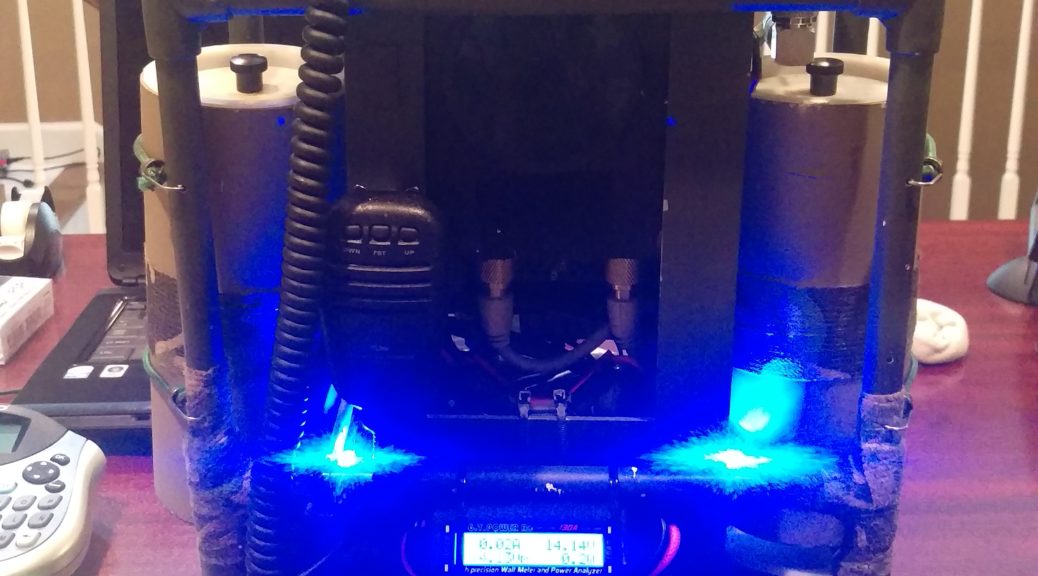 K4ECD Frame Details & Dimensions
K4ECD Frame Details & Dimensions
Frame objectives:
In 2013, I set out to build a lightweight frame to carry the Yeasu 857D portable with a tuner and Bioenno 12Ah battery. Over time I added other things, like a USB port and kill switch…
Here is what I came up with. What makes my frame unique: it includes 4 storage bins (two large, and two small). It is not a difficult or expensive build, especially if you can do it DIY
Thanks: If you build this, please give credit, especially if you use the Bin Storage idea 🙂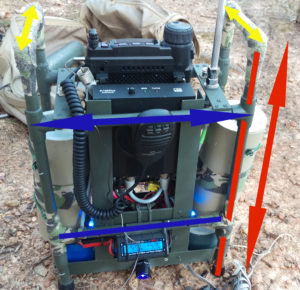 Width: [BLUE] 12″
Height: [RED] 18″
Depth: [YELLOW] 6″
Materials:
4 each of  1/2″PVC Elbows (for the top only)
About 12′ 1/2″ PVC
12 each of 1/2″ PVC Tee Joints
about 4 feet of 3″ PVC to make your bins
Aluminum L brackets at about 8′, the thickness is up to you, it impacts weight!
Aluminum flat bar about 2′ – I used lest than 1′
Rivets (for attaching Aluminum to the PVC)
2 cans spray paint to your color [I liked camo-green]
PVC glue
1/2″ Rubber Feet for base: LINK
Camouflage Wrap for the edges: LINK
1/2″ PVC Cut Steps:
WIDTH RELATED CUTS (4 items)

Cut 4 each of 1/2″ PVC to a length of 10 1/4"
See Figure 1: middle for width, in  [BLUE]

You can adjust this to your needs, 10 1/4"gives about 12" overall in width.
I choose this width to fit in my backpack

HEIGHT RELATED CUTS (16 items of various lengths)

Cut 4 each of 1/2″ PVC to a length of 3″
See Figure 1: For top height 

[RED TOP]

Cut 4 each of 1/2″ PVC to a length of 7″
See Figure 1: for height,  located between the top and bottom

[RED MIDDLE]

Cut 4 each of 1/2″ PVC to a length of 2″
See Figure 1: for minor height adjustments 

[AFTER RED MIDDLE]

NOTE: You can hardly see these "spacer" in this image (see Figure 2 below)!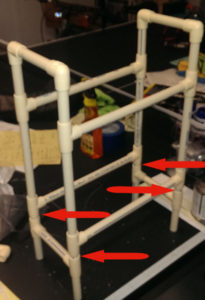 Cut 4 each of 1/2″ PVC to a length of about* 3″ (*your needs may vary)
See Figure 1: for height 

[RED BOTTOM]

DEPTH RELATED CUTS (4 Items)

Cut 4 each of 1/2″ PVC  to a length of 4 1/2″
See Figure 1: 2 needed for the top width spacers, two for the bottom width spacers

[YELLOW ]
 Notes:
Do not glue the frame until you have sized it to your needs and dimensions. Once the Glue sets – you can't adjust!
The base battery holder is 'L' bracket light weight aluminum – attach with rivets
The radio is held in place by aluminum "L" brackets  – attach with rivets
The antennas are placed on two aluminum bars at the top – attach with rivets (see top view)
rivet the elbows and Tee joints with one small rivet per joint – this prevents the joint from moving over time.
It was after about 2 years, I riveted all the elbow and Tee Joints in place also. This prevented the joints from coming apart.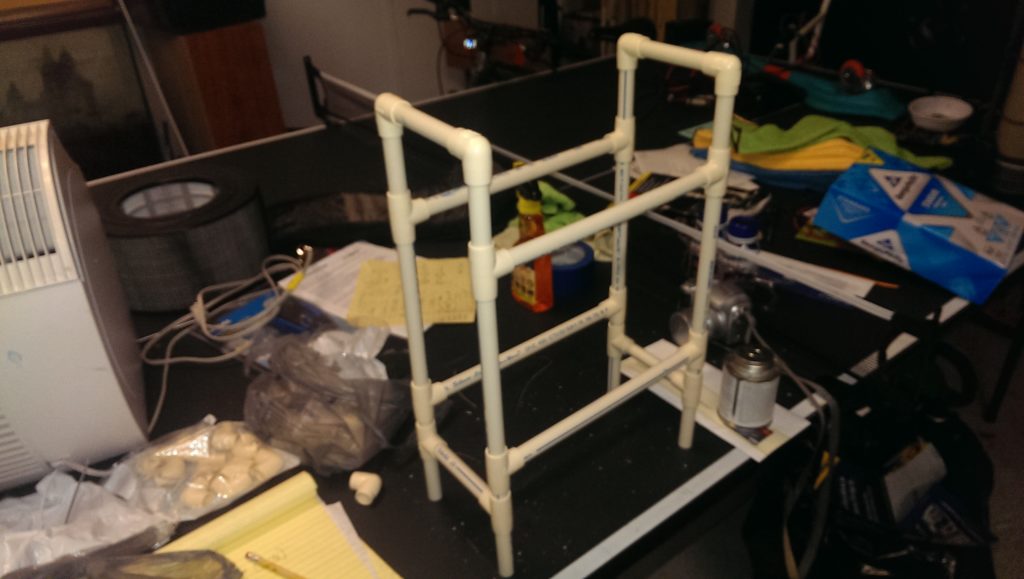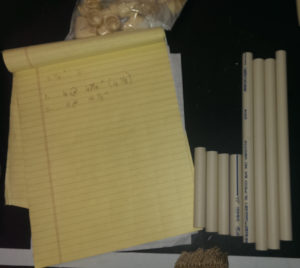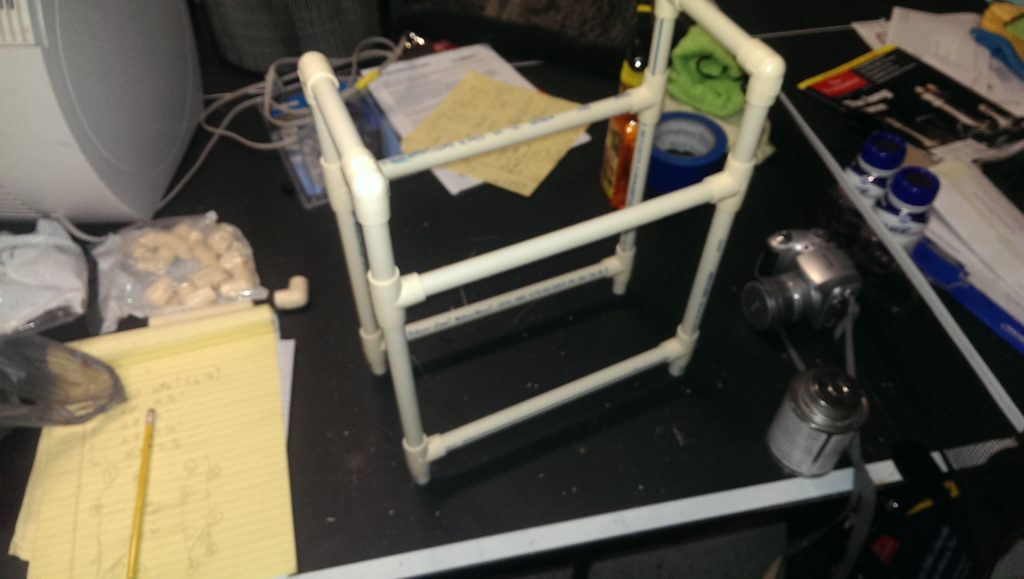 Storage Bins: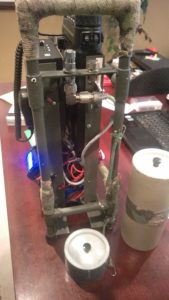 They are both 3″ PVC with lids and knobs bought at a local home hardware store. Adjust the height to suit your needs, they are held in place by elastic ties bought at Harbor Freight for under $4
I store a great deal of items in these bins. Antennas, spare parts, tools, ear phones – Bluetooth devices, counterpoise etc.
They are 4 bins in total.
Storage Dimensions:
Large bins are about 8 1/2″ height with 3″ diameter PVC
Small Bins are 2″ height with 3″ diameter PVC
Final Thoughts:
Use the images below, they will show you what elbows go where, and where how I installed the Tees. Aluminum brackets and the top bar for the antennas are at your discretion to fit your rig and tuner. The entire project took me 4 – 6 hours from first cut to painting.
Ham Equipment Installed:
Yaesu 857D
LDG Z-100 Tuner with connection cable (self made): LINK
Versa-Tee powerpole 4 in 1: LINK
Bioenno 12v 12Ah  perhaps the best battery for Ham Radio on the Market!
Watts UP Watt meter – actually I replaced the original with this cheaper version
Bluetooth adapter from BlueCAT sold in UK

Device allows direct control from my smartphone

DUAL USB 2A charger for smartphone and tablet and 12v car socket: LINK
12v switch for 12v battery disconnect: LINK
SUPER ANTENNA MP1: A great antenna! Also carry endfed and dipole wire antennas
More Images: